Growth of a tree after translocation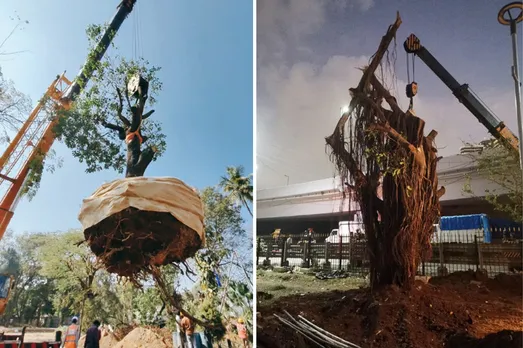 Uprooted for translocation
After trimming the branches, we apply a bio fungicide to prevent any bacterial or fungal infections. Earthmovers and hydraulic cranes are used to lift the trees and place them in trucks or trailers depending on their size
Winter Maintenance
The contractors were in a hurry to move ahead, but the Manikonda Gram Panchayat did not want the trees to be axed. His NGO has transplanted and restored trees of all sizes including 100-year-old trees which were 60-70 feet tall.
Crowd-funding
the method Vata Foundation has been following so far. "Initially, I used to put money out of my pocket and request people for funding through social media. Like when we had to translocate 320 trees in LB Nagar, we raised over Rs 4 lakh.
Transplantation of trees
Translocation requires a minimum of three weeks. But I was given just two days to move these 100 trees from the middle of the city. We brought in five earthmovers (JCBs in common parlance) and transplanted the trees at the Manikonda graveyard about 25km away.
Trees give out oxygen
Trees prevent soil erosion, absorb carbon-di-oxide, improve biodiversity by providing a home to birds and bees and increase the number of pollinators. Most importantly, trees give out oxygen, which is the lifeline for human beings and animals.
Modern Style Pattern
Both government and private landowners need permission to even translocate trees. ources added that more trees are likely to be felled at Erragadda in the coming days as JCB excavators and bulldozers have already begun digging the land to prepare for the hospital foundation.